The safety and quality of served water is crucial. Discover the filtration technology  used in our dispensers  and quality certificates. 
Water purifiers that are powered by tap water have better and better quality, thank to investments in infrastructure and modernization of water treatment station. Tap water is subjected to constant control by boroughs that are commited to maintain water quality standards. 
While reaching  similar mineralization as in the case of the spring water supplied in bottles, tap water is great for powering water purifiers (POU). 
Due to the need to ensure the highest water quality and elimination of factors adversely affecting its value (the presence of chlorine, sediment and mechanical pollution appearing in the main water supply) it is reccommended to use additional tap water filtration. 
WATER FILTER - THE HEART OF PURIFIER 
Thanks to the installed filtration system our dispensers serve clean, fresh water, free from pollution.  
Aquaphor Crystal Solo water ultrafiltration system used in most of ours dispensers, is multi-tasking and has a high capacity of up to 4000 lITRES (or 6-12 months of use). 
Head system – simple and intuitive replacement of entire cartridges without the use of tools – on the basis "unscrew – screw".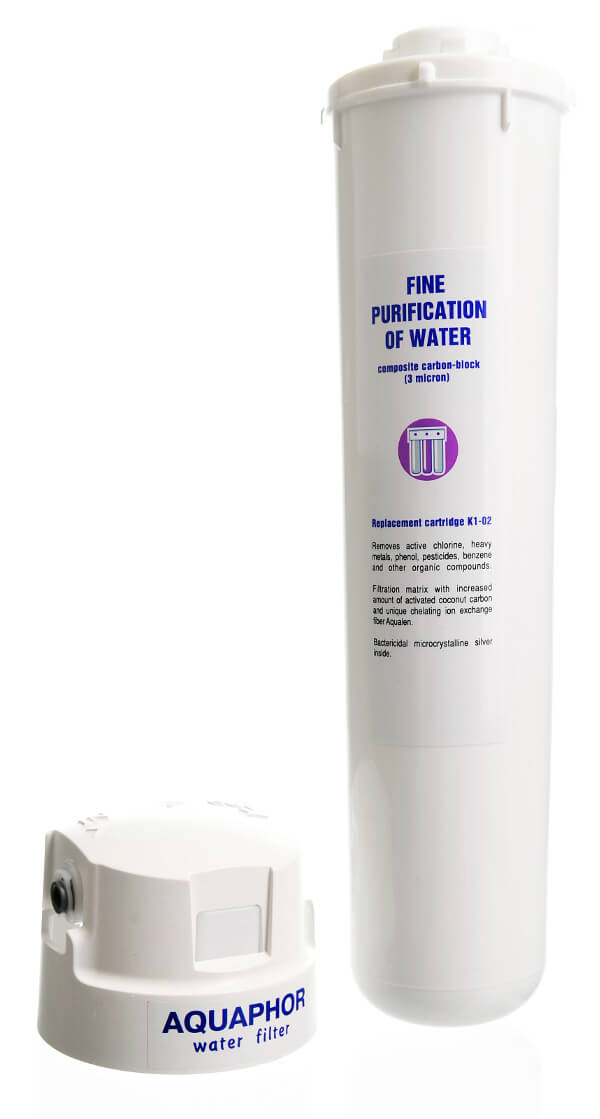 AQUAPHOR CRYSTAL SOLO FILTER FEATURES 
✓ Two stage filtration - (active carbon, mechanical filtration with accuracy/in increments of 0.8 microns) based on active carbon with patented Aqualen technology. 
✓ Silver Ion technology - due to the use of silver ions in the filter bed, the filters ensure stability and bacteriological purity of water. 
✓ Water mineralization - the system does not deprive mineral from water. The bio minerals contained in the water effectively suplement the daily diet with valuable magnesium and calcium compounds. 
✓ Low operating cost - high efficiency cartridges (up to 4000 liters) extend the period from exchange to exchange up to 6-12 months. Cartridge price for exchange: 15EUR. Possibility to use other types of Aquaphor cartridges.
✓ Simple replacement of entire cartridges  - user friendly and without additional costs for filter maintaining company. 
✓ Certificates and material safety  - German TUV certificate, hygienic certificate. 
Efficiency of pollution removal: Chlorine 100%, heavy metals (lead, cadmium, manganese): 90%, phenol: 98%, petroleum products: 99%, pesticides: 97%.
ANTIBACTERIAL TECHNOLOGY WITH UV LAMP
The highest antibacterial protection and practically 100% effectiveness in removing bacterial is provided by ultravioleet radation technology used in UV lamps. UV water sterilization is currently one of the most modern ways to ensure water free from bacteriological contaminants and at the same time.
Is a safe method that does not change the properties of water. 
The use of a UV lamp in water dispensers ensures the highest filtration quality of the water produces, which is reserved for the best devices on the market. 
In the range of Prime water dispensers, water protection system UV lamp was used in the latest model: Prime Elegance UV. The lamp works automatically when the water intake is switched on and installed at the final stage of water outflow from the dispenser. Lamp life: 8000 hours (provided for the entire life cycle of a dispenser).
CERTIFIED AND SAFE MATERIALS
Prime line dispensers and the filtration systems used in them have hygenic certificates of the National Institute of Hygiene and title "Certified Product". 
The certificate issued by the National Institute of Public Health certifies that the product and the materials used in during contact with water are safe for both people and the environment. 
The systems also meet European Union directives on material safety RoHS. 
Prime water dispensers are safe to use devices enabling direct consumption of tap water, thanks to the  installed filtration system.
.
OTHER FILTRATION OPTIONS
There is an option for install other filtration system. For wholesale customers, we can provide units without filtration system installed. The units are ready to install any other filtration system. Prime Eco free stand models can be equipped with 4 x 2,5" filter cartridge bracket.