Elegance Small UV Soda
Specyfikacja
Three types of filtered water – cold, cold –sparkling, hot
Built in UV lamp – full water antibacterial protection
Modern and sleek design - only 23 cm width and 40 cm height
The smallest cold/hot/soda water dispenser
Touch control panel with touchless module service
LED lighting (water dispensing chamber, buttons)
Option to change cold water temperature (5-12 C)
High capacity external water filtration system – 4000 liters
"Certified product" – polish hygiene certificate (for dispensers and filtration system)
local_shipping Kurier Kurier DHL - paleta ZA DARMO
access_time Czas realizacji Within 1 working day
Chcę kupić
Chcę wynająć
local_shipping DARMOWA DOSTAWA
build DARMOWY MONTAŻ
compare_arrows WYMIANA FILTRÓW
playlist_add_check SANITYZACJA
battery_full WYMIANA BUTLI CO2
Wynajmij
Oferta hurtowa
loyalty ATRAKCYJNE RABATY
local_shipping BŁYSKAWICZNA WYSYŁKA
repeat USŁUGA DROPSHIPPING
security GWARANCJA JAKOŚCI
transform LEASING OPERACYJNY
Oferta hurtowa
Order by phone: 601 56 59 57
Description
PRIME SMALL UV SODA - SODA WATER DISPENSER WITH UV LAMP
The latest model from the Prime Elegance product line. Full range of water supply (cold,hot, sparkling) and highest antibacterial protection due to the use of a UV lamp. New for 2020 year season.
Provides filtred drinking water in three types:
1. Filtered still water (5-12°C temp.),
2. Filtered SODA water (5-12°C temp.),
3. Filtered hot water (~85°C temp.).
The highest efficiency of sparkling water (up to 1000 liters on one CO2 cylinder) thanks to the possibility of installation inside a large 5 liter CO2 cylinder.
CECHY MODELU ELEGANCE UV SODA
✓ Elegant style – UV is the latest model in the Elegance line dispensers and combines the modern look of the distributor with the latest technology and the highest quality. The water dispenser in an office or home will no longer be a boring and uninteresting device.
✓ The smallest constuction on the market – only 23 cm wide and 40 cm height makes this model a subtle addition to the equipment of any modern and ecological kitchen.
✓ UV Lamp – a unique solution among water dispensers that provides 100 % antibacterial protection for the served water. Ultraviolet radiation is the only effective way to provide bacteria-free water. The live span of UV lamp is 8000 hours.
✓ High dispensing area – 21 cm high, between drip try and water faucet. The large dispense area is designed to accommodate tall sports bottles and jugs, for a reducing requirement for disposable cups.
✓ Touch pannel operating – one of the first devices on the market equipped with a full touch control panel. Just touch with your finger to start the flow of the selected type of water. Another touch ends the water flow.
✓ One water outlet – three types of water are served by one outlet. It is an important functional feature affecting the minimalist look and intuitive operation ( the user does not have to wonder where to place the cup).
✓ Effective carbonization system for sparkling water – real sparkling water given continuosly. The dispenser gives sparkling water under constant pressure with an even outflow. It has the ability to set the level CO2 water saturation.
✓ Hot water protection – before turning it on accidentally.
✓ Highest carbonated water efficiency – this slim model fits inside a large 5 liter CO2 cylinder - up to 1000 liter of Soda water from one cylinder.
✓ LED lighting – water intake chamber for the highest comfort of use, water intake point and buttons are constantly lightened, thanks to which the water dispenser is easy to operate even in low light or at night.
✓ Certified and safe materials – dispensers and the filtration systems have hygenic certificates of the National Institute of Hygiene and title "Certified Product". The product and the materials used in during contact with water are safe for both people and the environment. The systems also meet RoHS - European Union directives on material safety.

.
SPARKLING WATER
This cooler serve chilled, sparkling water in the range of 5 to 12 degrees Celsius. Dispenser serves water continuosly, as long as the sparkling buton is on (up to 1,5 liter). Thanks to the precarbonization system, the holds in the tank 1,5 liters of carbonated water prepared for use.
The purifier produces water medium saturated with CO2 (dosing up to 4 g CO2 / liter of water). The water saturation level can be adjusted by turning the crank on the reducer. High efficiency up to 1000 liters of sparkling water from one CO2 cylinder, when using 5 liter cylinders (sets available separately). .
.
CERTIFIED AND SAFE MATERIALS
Prime line dispensers and the filtration systems used in them have hygenic certificates of the National Institute of Hygiene and title "Certified Product".
The certificate issued by the National Institute of Public Health certifies that the product and the materials used in during contact with water are safe for both people and the environment.
The systems also meet European Union directives on material safety RoHS.
Prime water dispensers are safe to use devices enabling direct consumption of tap water, thanks to the installed filtration system.
AQUAPHOR CRYSTAL SOLO FILTER FEATURES
✓ Two stage filtration - (active carbon, mechanical filtration with granularity of 0.8 microns) based on active carbon with patented Aqualen technology.
✓ Silver Ion technology - due to the use of silver ions in the filter bed, the filters ensure stability and bacteriological purity of water.
✓ Water mineralization - the system does not deprive mineral from water. The bio minerals contained in the water effectively suplement the daily diet with valuable magnesium and calcium compounds.
✓ Low operating cost - high efficiency cartridges (up to 4000 liters) extend the period from exchange to exchange up to 6-12 months. Cartridge price for exchange: 15EUR. Possibility to use other types of Aquaphor cartridges.
✓ Simple replacement of entire cartridges - user friendly and without additional costs for filter maintaining company.
✓ Certificates and material safety - German TUV certificate, Poland hygienic certificate (see certificate).
Efficiency of pollution removal: Chlorine 100%, heavy metals (lead, cadmium, manganese): 90%, phenol: 98%, petroleum products: 99%, pesticides: 97%.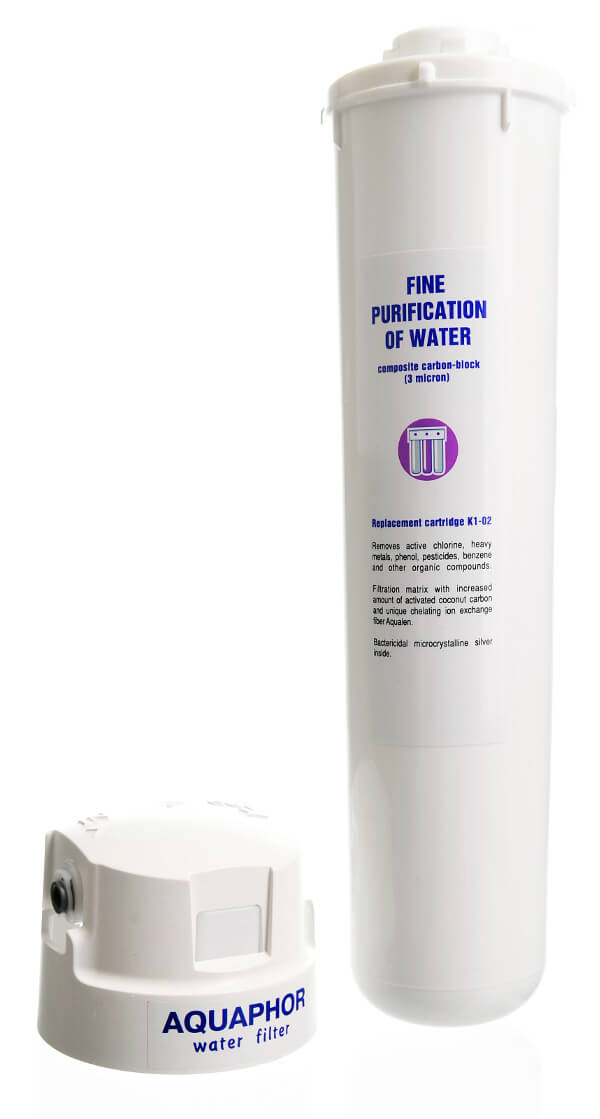 .
DISPENSER SET INCLUDING:
✓ Prime Elegance Small UV Soda (version with cold/hot/soda water) – 1 piece.
✓ Aquaphor Crystal Solo filtration system installed outside (head and filter cartridge) – 1 piece.
✓ Connections / T-piece watewr valve for powering the dispenser with cold water (thread size ½") – 1 piece.
✓ Water and CO2 connection line (tubing 1/4")– length 5 meters.
✓ Polish assembly and operating instructions.
Product Details
Data sheet
Chilling efficiency [litres per hour]

20

Weight [kgs]

21

Heating efficiency [liters per hour]

8

Product dimensions [cm]

23 (W.) x 40 (H) x 42 (D)

Power consumption (hot/cold) W

100/600

Soda water tank capacity [litres]:

1,1

Touch pannel

Yes

Drip try capacity [litres]

0,15

Types of produced water:

cold / hot / carbonated

Heating OFF button

Yes

Cooling OFF switch

No

Body Colors versions

White

Noise:

45 dB (A) - okresowo, tylko w trakcie chłodzenia i pracy wentylatora

Cooling system type:

Agregat z czynnikiem R134a, chłodzenie aktywne ze wspomaganiem wentylatorem.