Prime 701S - undercounter alkaline water ionizer
Specyfikacja
Undercounter installation – highest comfort of use
Touch tap made from satin steel INOX
Color display with presentation of operating modes
7 Titanium-Platinum plates
Self-diagnosis system
Up to 1680 ORP and pH settings
Built in filtration system – two advanced filtred cartridges
Effective electrolysis – high power SMPS with power 450W
Two programs for automatic plates cleaning
Polish hygienic certificate "Certified product"
Certificate BPA FREE
Certificate of medical device (KFDA)
The possibility of using the ionizer base as a fully functional countertop ionizer
High concentration of active hydrogen in alkaline water (up to 1200 ppm)
local_shipping Kurier Przesyłka kurierska - DPD ZA DARMO
access_time Czas realizacji 1dzień
Chcę kupić
Chcę wynająć
local_shipping DARMOWA DOSTAWA
build DARMOWY MONTAŻ
compare_arrows WYMIANA FILTRÓW
playlist_add_check SANITYZACJA
battery_full WYMIANA BUTLI CO2
Wynajmij
Oferta hurtowa
loyalty ATRAKCYJNE RABATY
local_shipping BŁYSKAWICZNA WYSYŁKA
repeat USŁUGA DROPSHIPPING
security GWARANCJA JAKOŚCI
transform LEASING OPERACYJNY
Oferta hurtowa
Order by phone: 601 56 59 57
Video presentation
Description
Prime Water 701-S - undercounter alkaline water ionizer (7 plates)
This ionizer can work both as a countertop and undercounter version. Thanks to the Prime Faucet Tap included in this offer, you get the highest comfort of use:
✓ Full functionality of ionizer use – the tap enables starting the device and selecting the operating mode (alkaine, acid and purified water), ionization level oraz indicates the consumption of the cartridges, water flow and operating mode presented on color display.
✓ Highest assembly aesthetics – tap made of satin steel inox (one full steel faucet on the market), having a modern design style that will give the kitchen a unique look.
✓ Valuable space on the countertop – the ionizer base is under the counter top and does not limit the space around sink.
PRIME WATER IONIZERS
Prime water ionizers are developed according to the latest technologies, produced in South Korea. Units have modern look and the the best in class ionization paramters.
Included: two additional filter cartridges for later replacement (filter number 1 and number 2).
HIGH EFFECIENCY IN REMOVING POLLUTION
Water filtration system in Prime water ionizers is characterised by high cleaning accuracy and a wide spectrum of harmful compounds removed, due to the use of high efficient field produced in Japan.
Pollution removal efficiency:
✓ free chlorine: >99,9%
✓ heavy metals – lead, cadmium, arsenic, selenium, mercury: >99,9%
✓ chloroform: >99,9%
✓ Pochodne chloru (trihalometany THM, dichloroetany): >99,9%
✓ turbidity: 96%
Polution removal efficiency test report: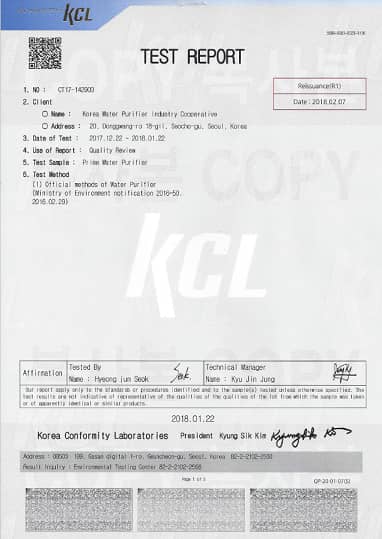 TECHNICAL DATA:
pH level: pH 4,5-10*

ORP: up to -600mV *depends on source water parameters

Flow: up to 4 liters / minute
Filters life span: 1st - 3000 liters / 2nd: 6000 litres.

Dimensions:(mm): 330 W x 150 D x 347 H

PRIME FAUCET DIMENSIONS: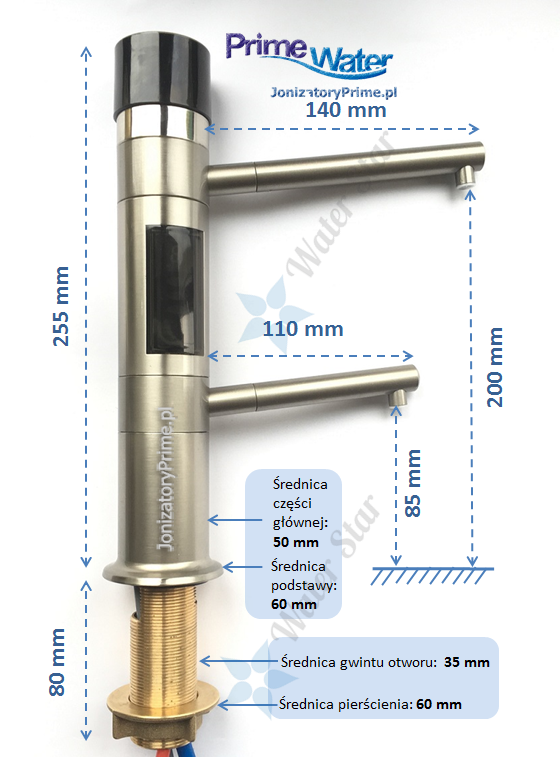 SPECIFICATION: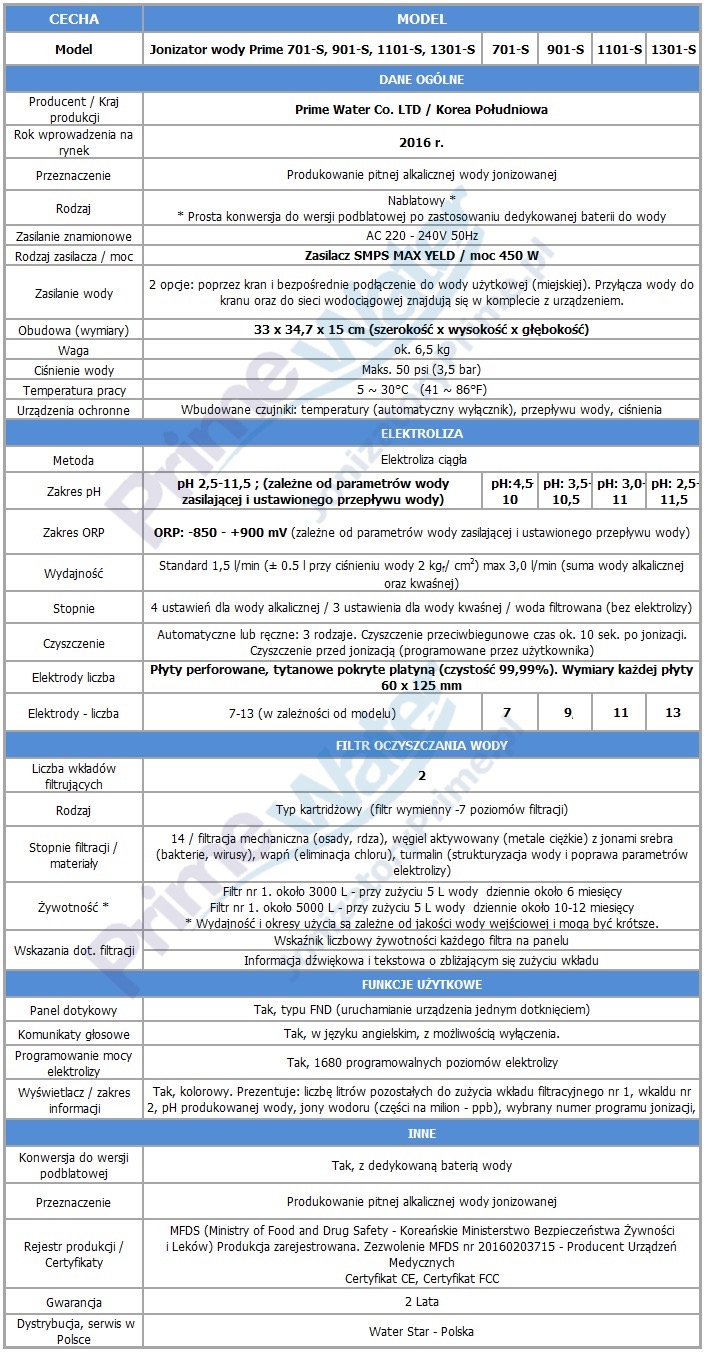 Product Details
Data sheet
Filter cartridge capacity [litres]

3000 - 1st filter / 6000 - 2nd filter

Product dimensions [cm]

33 (W) 15 (D) 35 (H)

In the set

Ionizer, faucet, water hose, user manual

Faucet dimensions [cm]

25,5 (H), 14 (W)

Water line lenght

2 m

Lenght of communication cord

2,5 m

Lenght of mounting thread

60 mm

Faucet base diameter

60 mm

Mounting hole diameter for faucet

35 mm

Body Colors versions

Black / inox (faucet)